Rutherford Institute Welcomes Cal Thomas, Syndicated Columnist & FOX News Political Commentator, to Barnes & Noble Speaker Series on April 30
April 10, 2014
Reservations recommended for books and limited seating. Book signing to follow event.
CHARLOTTESVILLE, Va. — In partnership with Barnes & Noble, The Rutherford Institute will welcome FOX News political commentator and nationally syndicated columnist Cal Thomas to the podium for the third installment of its ongoing speaker series. Thomas, a 45-year veteran of broadcast and print journalism who is celebrating 30 years of nationwide syndication with the publication of his new book What Works, will speak at the Barnes & Noble in Charlottesville, Va., on Wednesday, April 30, 2014, at 6 pm EST. Thomas will be introduced by constitutional attorney John W. Whitehead, president of The Rutherford Institute and author of A Government of Wolves: The Emerging American Police State. A book signing will follow the event.
Seating and books are limited, so those wishing to attend should call The Rutherford Institute at (434) 978-3888 to reserve their space.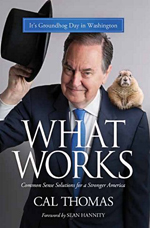 Cal Thomas is America's most widely syndicated op-ed columnist, authoring a syndicated column twice a week that reaches over 500 newspapers across the country.  Thomas' latest book, What Works, is an examination of the present day partisan and celebrity-driven era in which we live, and how to move past it and make America thrive again. In all, Thomas has authored 10 books, provides commentary for programs airing on over 300 radio stations and makes regular appearances on "FOX News Watch." During the years 1980-1985, Thomas served as vice president of Moral Majority, one of the largest conservative lobbyist groups in the United States that was incredibly influential during the Reagan Administration.  Thomas co-authors a weekly column in USA Today with Bob Beckel, "Common Ground," which served as the inspiration for their book, Common Ground:  How to Stop the Partisan War That Is Destroying America.
The Rutherford Institute's speaker series, offered in partnership with Barnes & Noble, features a broad array of political and cultural gadflies from a cross-section of cultural, philosophical and legal backgrounds who will address issues ranging from civil liberties post-9/11 and criminal justice reform to the dissolution of the print media, religious freedom in America, TSA scanners and threats to the Fourth Amendment, and what Americans can do to guard against attacks on the Constitution.
Founded in 1982 by constitutional attorney and author John W. Whitehead, The Rutherford Institute is one of the nation's leading advocates of civil liberties and human rights, litigating in the courts and educating the public on a wide spectrum of issues affecting individual freedom in the United States and around the world.