State demographer Lloyd Potter projects Texas educational attainment rates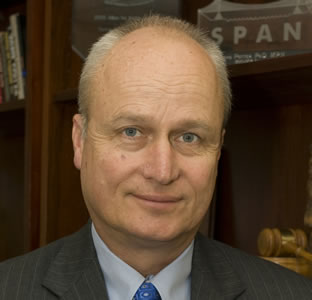 Share this Story
(April 8, 2014) -- Lloyd Potter, the Texas state demographer and professor of demography at The University of Texas at San Antonio (UTSA), will present major findings from his newly released projections on the educational attainment rates of the Texas workforce through 2030. Free and open to the public, the presentation is 10 a.m., Wednesday, April 9 at the UTSA Downtown Campus Frio Street Building Multipurpose Room (1.402).
The Office of Texas State Demographer and the Texas State Data Center (TXSDC) at UTSA produced "Educational Attainment Projections of the Texas Civilian Workforce, 2011-2030" in cooperation with Helen You, a researcher at the UTSA Institute for Demographic and Socioeconomic Research (IDSER).
Potter's presentation will examine the implications of two potential projected routes that the overall educational attainment of Texas' civilian workers by 2030 might take and how these routes might affect Texas' overall economic future.
President Ricardo Romo and state Rep. Mike Villarreal are scheduled to join Potter to provide remarks on the importance of these findings to the future of education in Texas.
By looking at data from 2011 and projecting trends through 2030, Potter and You found that while educational attainment rates generally improve for all populations from where they are now, significant disparities persist across racial and ethnic groups.
"The education of our future civilian workforce is of crucial importance for the future economic vitality of Texas, but educational attainment is greatly affected by trends in demographic composition," said Potter. "In light of recent projections, a significant investment must be made toward improving the educational attainment rates of our young men and women, and Hispanics in particular."
According to Potter, the state's projected population growth over the next two decades will be driven by growth of its Hispanic population. By 2020, the Hispanic population is projected to surpass all others in the state.
Governor Rick Perry appointed Potter to serve as the Texas state demographer in June 2010. In addition to this role, Potter also is the director of the IDSER and the TXSDC. His research interests are in applied demography with a focus on health, education, energy and water.
Potter holds a Ph.D. in demography and sociology from the University of Texas at Austin, a Master of Public Health degree from Emory University, a Master of Science in Education degree from the University of Houston at Clearlake and a Bachelor of Science degree from Texas A&M University.
The Texas StateData Center distributes Texas census information, population estimates and projections, and information from federal, state and other government sources. For more information and services offered, visit the Texas State Data Center website.
>> Learn more about the UTSA College of Public Policy and the UTSA Department of Demography.
Link to