Without Mavericks Like Nat Hentoff, Age 88, Freedom Would Be a Word Without Content
By John W. Whitehead
June 05, 2013
"If James Madison or Thomas Jefferson were brought back to life, they would not recognize this country. We have been through some troubling times before in our nation's history. I believe we are in a worse state now than ever before in this country. With the surveillance state closing in on us, we are fighting to keep our country free from our own government. Whereas we once operated under the Constitution, we are now, for example, under the USA Patriot Act, among other government dragnets, that permits pervasive electronic surveillance with minimal judicial review. The government listens in on our phone calls. It reads our mail. You have to be careful about what you do and say, and that is more dangerous than what was happening with McCarthy, since the technology the government now possesses is so much more insidious. We have no idea how much the government knows about average citizens. This is not the way the government born under the Declaration of Independence is supposed to operate."—Nat Hentoff, Introduction to A Government of Wolves: The Emerging American Police State
I've had the privilege of working with some remarkable individuals in my lifetime—celebrities, politicians, writers, artists, musicians, journalists, people whose names are legendary and others whose impact, no less significant, was only felt by a small few—yet for sheer nerve, integrity, tenacity, vision and a love of America that has weathered the best and worst this nation has had to offer, no one can match Nat Hentoff.
Even at the ripe age of 88, Hentoff is a radical in the best sense of the word, a feisty, fiercely loyal, inveterate freedom fighter and warrior journalist with a deep-seated intolerance of injustice and a well-deserved reputation for being one of the nation's most respected, controversial and uncompromising writers.
Armed with a keen understanding of the law and an enviable way with words, brandishing a rapier wit and teeming with moral outrage, Nat has never been one to back down from a fight, and there have been many over the course of his lifetime—one marked by controversy and fueled by his passion for the protection of civil liberties and human rights. There was the time Nat testified for stand-up comic and political satirist Lenny Bruce during his obscenity trial; stood up for a woman rejected from law school for being white; called into Oliver North's talk show to voice his agreement about liberal intolerance for free speech; and resigned from the ACLU in protest of their position on assisted suicide, as well as their position against revealing the results of HIV tests on newborn babies.
This is also a man who has walked among political and cultural giants and lived to tell the tale. He was friends with Malcolm X, was labeled "the Antichrist" by Louis Farrakhan, and came to know some of the most talented jazzmen of all time—Duke Ellington, Thelonious Monk, Charles Mingus, and Dizzy Gillespie, to name a few. He attended John Lennon and Yoko Ono's famous Toronto Bed-In. He also wrote album liner notes for such musical greats as Bob Dylan, Billie Holiday, and Aretha Franklin.
A self-described uncategorizable libertarian, Hentoff adds he is also a "Jewish atheist, civil libertarian, pro-lifer." Born in Boston on June 10, 1925, Hentoff received a B.A. with honors from Northeastern University and did graduate work at Harvard. From 1953 to 1957, he was associate editor of Down Beat magazine. He went on to write many books on jazz, biographies and novels, including children's books. His articles have appeared in the Wall Street Journal, New York Times, Commonwealth, the New Republic, the Atlantic and the New Yorker, where he was a staff writer for more than 25 years. In 1980, he was awarded a Guggenheim Fellowship in Education and an American Bar Association Silver Gavel Award for his coverage of the law and criminal justice in his columns. In 1985, he was awarded an Honorary Doctorate of Laws by Northeastern University. For 50 years, Hentoff wrote a weekly column for the Village Voice. When that position was terminated on December 31, 2008, Hentoff joined the Cato Institute as a Senior Fellow.
Despite an illustrious career as a journalist, there has been no shortage of derogatory labels applied to Nat by his critics, including, as he notes in his memoir, Speaking Freely:
a radical (according to the FBI): an "enslaver of women" (according to pro-choicers); a suspiciously unpredictable civil-libertarian (according to the ACLU); a dangerous defender of alleged pornography (according to my friend Catherine MacKinnon); an irrelevant, anachronistic integrationist (according to assorted black nationalists); and, as an editor at the Washington Post once said, not unkindly—"a general pain in the ass."
Indeed, in keeping with his role as a socio-political gadfly, Nat has managed to anger nearly every political faction by sticking to his principles, regardless of the trouble it stirs up. When Nat first declared himself an "atheist pro-lifer," women in his Village Voice office actually stopped speaking to him. Likewise, although ACLU affiliates around the country had for years invited him to speak at fundraising dinners, after declaring himself a pro-lifer, all such invitations stopped.
Even his forced departure from the Village Voice could not dampen Nat's zeal nor temper his voice. In fact, Hentoff has been a vocal critic of the last three presidents. As he remarked in a 2012 interview he did with me:
With Bush, Cheney and Obama, we are seeing the same attacks on the Constitution. One of my biggest fears is as this goes on, and it can go on, kids will not make the Constitution part of their lives. They won't know much at all about the Bill of Rights -- the centerpiece of our democracy. We are going to have a long period where people are accustomed or conditioned to what's going on now with the raping of the Fourth Amendment, for example.
At the end of the day, what sets Nat Hentoff apart is the fact that he has never lost his sense of rage, nor his eternal optimism. "Nat Hentoff has never allowed his thought to harden into ideology," writes Allen Barra for the Village Voice. "He's never lost his talent to agitate us and make us rethink our own positions—to make sure that our minds watch ourselves."
It's people like Nat Hentoff who keep us honest, inspire us, and push us to think. Certainly, he has inspired me time and time again to not give up, even when all seems hopeless, and to never stop working for the greater good. With such a rich assortment of famous characters populating his own life, I wondered which one he would credit with having most inspired him to spend his life tilting at windmills, at it were. Was it a Supreme Court justice? Bob Dylan? Malcolm X?
Just when I thought nothing about this Jewish atheist, civil libertarian, pro-life, socio-political gadfly could surprise me anymore, Nat threw me another curve ball by naming a devout Catholic woman I'd never heard of as the greatest source of his inspiration:
Frances Sweeney is the one who has most influenced my life. She was a devout Catholic. She was also furious at the anti-Semitism in Boston, spoke against it, wrote against it and was very angry that the Catholic press never said anything about it. So she went to see then Cardinal O'Connell, not O'Connor -- I knew O'Connor later. O'Connell paid no attention to it. He almost threatened her with excommunication if she didn't stop. Of course, she wouldn't. Frances got some of us to attend various meetings including meetings of anti-Semitic groups. And that is when I learned not to take notes when people are watching you. But anyway, I so respected her and what she did for us. Then one day, she had us take a test as to what our prejudices were. The next meeting she threw the papers on the desk and said, "You are all a bunch of bigots." Our own prejudices came out. That impressed me. But I supposed what most impressed me was she never stopped doing what she wanted to do. Her doctors told her to soften up her schedule. She had a heart condition. She had a heart attack on one of the main streets in Boston. She fell into the gutter and could not speak. But she did remember afterwards when she could speak that people would come by -- I guess she looked very Irish to them -- they didn't do anything to help her. Some people would say, "See? Another Irish drunk." She recovered from that for a short time. This encapsulates the kind of life I most admire.
About The Rutherford Institute
---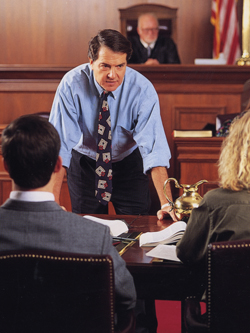 "The Rutherford Institute is one of the nation's premier civil liberties organizations."—Nat Hentoff, nationally syndicated columnist
Founded in 1982 by constitutional attorney and author John W. Whitehead, The Rutherford Institute is a civil liberties organization that provides free legal services to people whose constitutional and human rights have been threatened or violated.
The Rutherford Institute has emerged as one of the nation's leading advocates of civil liberties and human rights, litigating in the courts and educating the public on a wide spectrum of issues affecting individual freedom in the United States and around the world.
The Institute's mission is twofold: to provide legal services in the defense of religious and civil liberties and to educate the public on important issues affecting their constitutional freedoms.
Whether our attorneys are protecting the rights of parents whose children are strip-searched at school, standing up for a teacher fired for speaking about religion or defending the rights of individuals against illegal search and seizure, The Rutherford Institute offers assistance—and hope—to thousands.
The Rutherford Institute is a 501(c)(3) organization, gifts to which are deductible as charitable contributions for Federal income tax purposes.
History of The Rutherford Institute