Appalachian Trail Adventures Hiking Spa Announces Opening of the 2013 Season
Killington, VT - May 26th 2013 -- Appalachian Trail Adventures (ATA) is excited to announce they opened for the season May 24th. ATA is a unique active vacation and wellness spa for hikers of all abilities, offering daily guided kayaking, caving and hiking adventures in the Green Mountains of Vermont along the Appalachian Trail and the Long Trail.
"We provide an affordable all-inclusive active vacation giving a real Vermont outdoor adventure. That's why we have the best vacation at the lowest possible prices. Unlike most spas, ATA's owner John Keough is engaged daily with the guests, encouraging them to get out of the fitness classroom and go hiking and kayaking. "Why would you come to Vermont or to any spa elsewhere and spend your time exercising indoors in a closed room when you could be outdoors obtaining the same results while exploring Mother Nature?"
ATA offers a number of options to help customize one's vacation. The Hiking Vacation (HV) consist of an air-conditioned room with three daily spa meals, snacks, a guided novice, intermediate or advanced hike, an afternoon of kayaking or an excursion to a local attraction or village. The Hiking &Yoga Vacation (HYV) is the same as the HV but in addition offers a daily yoga class. Massages, tennis lessons, cooking demonstrations and nutrition consultations with our Registered Dietitians are available to all guests à la carte.
Hikers stay at the Summit Lodge, which is known for its personalized service. Situated on eleven acres, the lodge offers all the cozy, traditional pleasures of a Vermont country inn, along with air-conditioned rooms and a spa for those guests who are looking for massage therapy.
"Our meals are a healthy balance of carbohydrates, proteins and healthy fats for those seeking healthier meals. We offer a vegetarian option at every meal and cater to special diets, such as vegan, low sugar, sodium-, wheat- and dairy-free options. In addition, different portion sizes are available. These are a weight loss portion and a hiker's portions so our guests can have customized meals. This enables ATA to cater to couples, athletes, weight loss vacationers, as well as to all those with no dietary restrictions who seek to eat healthily."
ATA's 2013 season runs from May 24th to October 14th
To learn more visit www.appalachiantrailadventures.com or call John at 1-888-855-8655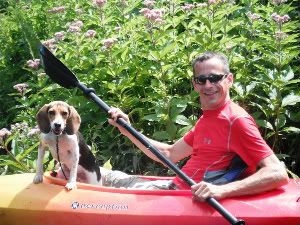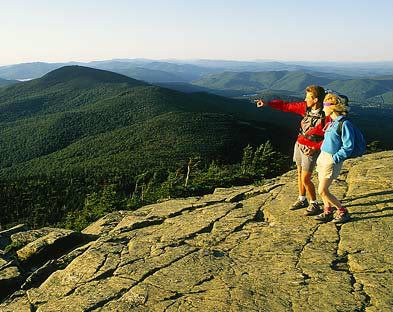 Pictures (left to right): John Keough and ATA's mascot, hikers at Killington Peak on Appalachian Trail, kayaking a local river.