Two Presidential Scholars win Eckman Awards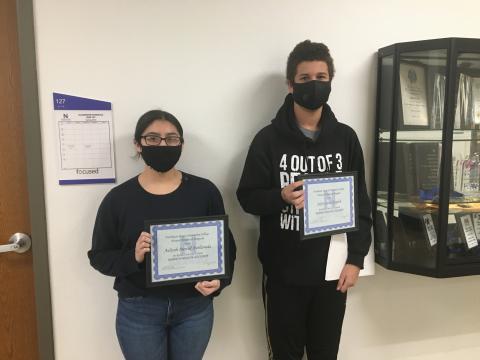 January 22, 2021
By: Dr. Andrew You, Honors Director
For their performance in challenging honors courses at NTCC in relation to their peers, two Presidential Scholars will win $100 checks.  NTCC's premiere James and Elizabeth Whatley Scholar, Jalyn English, received the highest GPA in the double-course fall Honors seminar known as "HuMusic," taught by Drs. Daniel, and Fulgham.   Aaliyah Avellaneda won her award as the honors freshman, ranking number one in the "BioTex" Honors Seminar this past spring, a combination of Biology and Texas History, taught by professors Ward and Yox. 
Both winners have contributed in other ways to the academic vitality of NTCC.  Jalyn English is the director of the film that will be premiered at the Humanities Building (129) of NTCC this 19 February at 7PM, PILGRIMage: a Story aBOut Northeast Texas.  Avellaneda, who interviewed former NTCC trustee and former Texas Lieutenant Governor, Bill Ratliff, developed research that is incorporated in the coming film.  
 NTCC Honors Director, Dr. Andrew Yox notes: "Getting to know both of these scholars has been like opening a door to a surprisingly unique and luxurious mansion. 2020 Chitsey winner, Jalyn English, has never stopped surprising us with his "steel-trap" memory and faithful leadership. He has the record of having made six presentations of a Caldwell-Award-winning film that he himself produced. Aaliyah Avellaneda is a brilliant conceptualizer, and a superb analyst. She has conducted the finest student interview I have ever witnessed."  
 An anonymous donor has funded now eighteen Eckman Awards at NTCC in memory of the late Richard and Joan Eckman.  Richard Eckman was a long-time inventor for Dresser Industries, a signature Texas oilfield corporation.  Many NTCC Eckman Award winners such as Verania Leyva (2020, 2018) Matthew Chambers (2017, 2018), Chesney Davis (2017), and Brenda Godoy (2016), have obtained excellent transfers.  In 2019, Eckman winner, Jordan Whelchel, won a full-ride to Rice University.
 Avellaneda is the daughter of Blanca and Francisco Avellaneda of Mount Pleasant.  Jalyn is the son of LaTrisha, and Quincy English of Bogata.