NTCC announces fall 2020 plan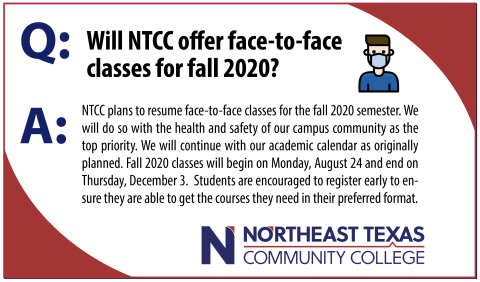 July 9, 2020
Dear Eagle Family,
We know that many of you are anxiously awaiting news about how things will look this fall at Northeast Texas Community College. We are pleased to report that NTCC plans to resume face-to-face classes for the fall 2020 semester. We will do so with the health and safety of our campus community as the top priority. As we all know, the COVID-19 situation is rapidly changing and we remain prepared to adapt as necessary to provide personal, dynamic learning experiences empowering students to succeed.

 
Below, you will find a summary of some of the significant decisions we have made for the fall:
Health and Safety
In accordance with Governor Abbott's executive orders GA-18 and GA-29, NTCC has adopted the minimum recommended health protocols for all individuals in Texas. All faculty, staff and students will be required to self-monitor for symptoms of COVID-19 and follow the procedures outlined below while on campus:
Review the COVID-19 NTCC Safety Protocols for Students and Faculty listed on the portal.

 
Prior to coming to campus each day:

Make sure you have a Face Covering or Mask available for when you enter campus
If you have been exposed without PPE to someone who is COVID-19 positive, speak to your healthcare provider and self-quarantine for 14 days
Make sure you have not had the following symptoms in the past 14 days: Cough, Cyanosis of the lips, Chills, Repeated shaking with chills, muscle pain, shortness of breath/difficulty breathing, Headache, Conjunctivitis, Sore throat, Loss of taste or smell, Diarrhea, Feeling feverish or have (or are treating) a temperature greater than or equal to 100.00 F.

 

If you have had COVID-19 or have gone through a 14-day quarantine, you may return to campus by following the CDC Discontinuation of Isolation protocols.

 
While on Campus, everyone will be required to:

Maintain social distance (6 ft) as much as you can.
Wear your Face Covering/Mask when entering buildings and in all public areas inside (hallways, bathrooms, lobbies, study areas, etc.)
Continuously practice hand hygiene with disinfectant and/or hand washing (recommended every 20 minutes) and utilize cough etiquette throughout your time on campus.
In classrooms/offices where social distancing is maintained while seated, wearing of face covering/mask is recommended but not required.
In classrooms/labs where social distancing is NOT possible, face covering/mask and PPE appropriate for class activities are required. At conclusion of activities, the student will remove PPE, except for face covering/mask, and follow faculty instructions for disposal.
Students will promptly leave campus premises at conclusion of classroom/lab activities

 
Learning
We will continue with our academic calendar as originally planned. Fall 2020 classes will begin on Monday, August 24 and end on Thursday, December 3. Students are encouraged to register early to ensure they are able to get the courses they need in their preferred format.

 
Class delivery will be offered in one of four ways: Traditional face-to-face format, fully online format, Live Remote format, or a hybrid format (face to face with an online component)



Face-to-face classes will have limited numbers of students allowed in each classroom to maintain social distancing.
Fully online classes will be delivered using NTCC's traditional online format through the Blackboard Learning Management System.
Live Remote classes will connect the instructor and the student in a virtual classroom where the student will receive live instruction and be able to interact directly with the faculty member during the course's class time.
Hybrid classes will have a combination of an on-campus face-to-face component with additional material being delivered online.

 

Additionally, some classes with enrollment above the maximum allowed in the classroom, will include a video component in which lectures will be streamed (this will apply to both fully face-to-face and the face-to-face component of hybrid courses). In these instances, the instructor may designate a rotating schedule for students so all will have the opportunity to be face-to-face on campus.
Class lectures may be recorded and made available to allow students who become ill or who need to self-isolate to keep up and continue to make progress.
Every course will have an instructional plan to ensure that the course continues in the event that a need arises to move to fully online learning during the semester.
Student Activities
NTCC anticipates being able offer numerous student activities, modified to accommodate COVID-19 protocols for the Fall 2020 semester. These activities include:
Welcome Back Event Week: Music, Food, Activities (No large crowds and/or gatherings, single serving lines, etc.)
Celebrating Multicultural Awareness Week: Fashion Day, Taste of NTCC, etc. (Similar protocols to Welcome Week)
Career Awareness Week: Career Fair
Carter Bloodcare Blood Drive
Leadership Conference Webinar Series
Live video chats during activity period
Eagles Athletics
Eagle Athletics are preparing for both Fall and Spring competitions.
Women's and Men's Soccer begins in September.
Rodeo will begin September/October.
Softball and Baseball will begin in February.
Campus Housing/Food Services
On-campus housing will be open with designated rooms for quarantine if needed. Capacity will be reduced in order to provide a more suitable environment for COVID-19 safety protocols.
Since reservations are almost at capacity, a waiting list for students will be available via the website.
A staggered schedule will be implemented to avoid large crowds when students move in to housing.
Modified Food Service will be available to students and employees.