DADDYSCRUBS HOSTS GIFTING BASH AT PRE-EMMY PARTY
***
The Boom Boom Room brings out the Celebs & Guests Galore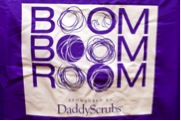 DaddyScrubs and fashion insider, Jayneoni Moore, hosted a hugely successful Pre-Emmy Gifting Suite Party at the Roosevelt Hotel in LA. The Boom Boom Room Gifting Suite has been compared to a giant baby shower where all guests leave with great baby and kid swag. Guests dropped by to say hello and check out the latest in baby gear while also getting the opportunity to rub elbows with Hollywood celebs such as Laila Ali, Harold Perrineau and Constance Marie.



DaddyScrubs brought their celeb-coveted, comfy, and one-of-a-kind "I'm the Daddy" scrubs that celebrate dads-to-be and let everyone know that he's the dad, not the doctor. Pictured left to right: Hunter Green, Killer Khaki, and Navy Seal Blue. ($54.95). Available in Edgy of Simple design, and in sizes M, L, XL, XXL (3XL-5XL available in Navy Edgy only).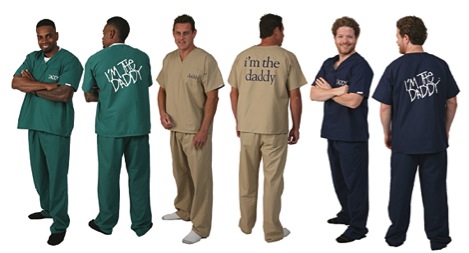 Guests also got to check out the in-demand Daddy Diaper Pack ($69.95)
, an alternative to the mom diaper pack that is a sleek and sporty option for dad to carry all the things he needs for baby.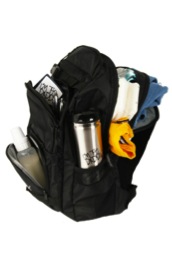 Guests also snagged DaddyScrubs' new All-American Dad T-shirt, the breathable cotton tee created for proud, strong, American dads. Likewise, guests checked out the cute and cuddly Daddy Bear and sweet Daddy Duck Book (which were snatched up by the younger set). The DaddyScrubs' team was on hand to talk with guests about DaddyScrubs and their different products. It was a terrific party with a great time had by all!



Pictured below, left to right: All-American Dad T-shirt ($24.95), Daddy Bear ($12.95), and Daddy Duck Book ($10.99).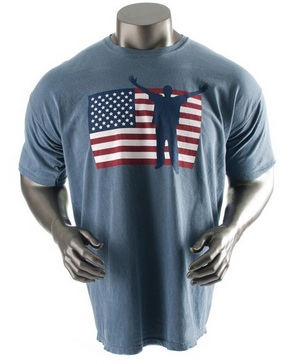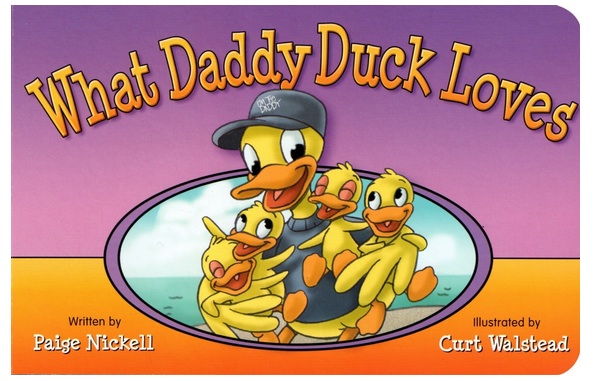 Here are a few of the celeb guests who attended the party with their DaddyScrubs swag: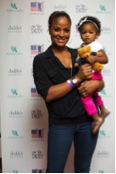 Laila Ali and daughter holding "The Daddy Bear"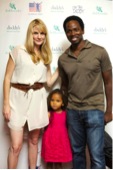 Harold Perrineau (Lost) & family with "The Daddy Diaper Pack"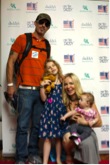 Shirly Brenner & family with The DaddyScrubs "Daddy Diaper Pack",
"I'm the Daddy" scrubs, "All American Daddy" T-shirt & "The Daddy Bear"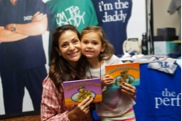 Constance Marie (George Lopez) and daughter with
"The Daddy Bear" & "Daddy Duck Book"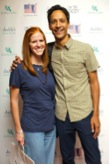 Danny Pudi (Community) & wife with "The Daddy Diaper Pack"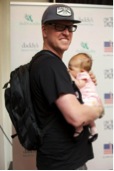 Jake Bussey & daughter showing off "The Daddy Diaper Pack"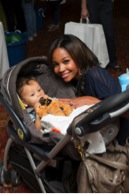 Kimberly Williams (Days of our Lives) & son cuddling "The Daddy Bear"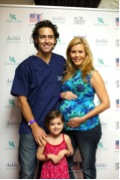 Christie Lyn Smith (The Crazies) with husband John and daughter Abby





About The Man Behind the Scrubs



Robert Nickell (aka Daddy Nickell) is the man behind DaddyScrubs, the "it" gift and apparel line designed to celebrate the dad-to-be. DaddyScrubs have also become a hot commodity among the Hollywood set including such celebs as Dean McDermott, Gilles Marini and James Van Der Beek. Today's dad is hands-on and engaged starting before baby is even born. Many dads-to-be attend Dadchelor Parties (the daddy bachelor party) and couple's showers. So what do you get the expectant dad? DaddyScrubs of course! DaddyScrubs has you covered with an array of Daddy Gear such as "I'm the Daddy" scrubs, t-shirts, hoodies, baseball caps and The Daddy Diaper Pack. DaddyScrubs will help make any new dad feel special and appreciated!





Daddy Nickell with son Lincoln
About DaddyScrubs
Robert Nickell, a.k.a. "Daddy Nickell," father of six, is the founder of DaddyScrubs.com, makers of Delivery Room Duds for expectant daddies and other essential Daddy Apparel and Gifts for all dads, and the DaddyScrubs blog where he offers his "5 cents" worth of advice to expectant and new parents, all from a Dad's perspective.
See DaddyScrubs on YouTube: http://www.youtube.com/watch?v=glZhOQAbjzc&hd=1.
Find DaddyScrubs on Facebook, Twitter (@daddyscrubs) and Pinterest!